BP and Shell raided in oil price-rigging investigation
European commission carries out 'unannounced inspections' to investigate claims oil companies colluded to manipulate prices
Rupert Neate
guardian.co.uk
, Tuesday 14 May 2013 17.22 BST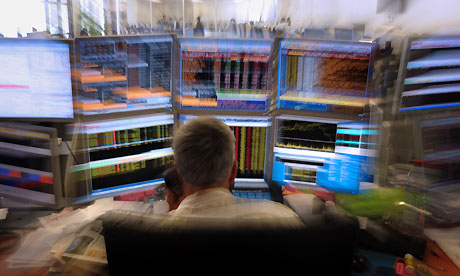 BP, Shell and other big oil companies have been raided by European commission officials investigating allegations they "colluded" to rig oil prices.
The commission said its officers carried out "unannounced inspections" at several oil companies in London, the Netherlands and Norway on Tuesday to investigate claims they may have "colluded in reporting distorted prices to a price reporting agency (PRA) to manipulate the published prices for a number of oil and biofuel products".
The commission said the alleged price collusion, which may have been going on for more than a decade, could have had a "huge impact" on the price of crude oil, "potentially harming final consumers".
EU authorities declined to name any of the companies raided but BP, Shell, Norway's Statoil and oil price reporting agency Platts all confirmed that they are being investigated.
In a statement Shell said: "We can confirm that Shell companies are currently assisting the European commission in an inquiry into trading activities."
BP said: "BP is one of the companies that is subject to an investigation that was announced by the European commission. We are co-operating fully with the investigation and unable to comment further at this time."
Statoil, which is 67%-owned by the Norwegian government, said: "The authorities suspect participation by several companies, including Statoil, in anti-competitive agreements and/or concerted practices contrary to Article 53 of the European Economic Area (EEA) [market manipulation].
"The suspected violations are related to the Platts' Market-On-Close (MOC) price assessment process, used to report prices in particular for crude oil, refined oil products and biofuels, and may have been ongoing since 2002."
The commission also said that Europe's big oil companies may have "prevented others from participating in the price assessment process, with a view to distorting published prices.
"Any such behaviour, if established, may amount to violations of European antitrust rules that prohibit cartels and restrictive business practices and abuses of a dominant market position.
"The prices assessed and published by PRAs serve as benchmarks for trade in the physical and financial derivative markets for a number of commodity products in Europe and globally. Even small distortions of assessed prices may have a huge impact on the prices of crude oil, refined oil products and biofuels purchases and sales, potentially harming final consumers."
The raids come less than a year after the Guardian revealed that the City watchdog, the Financial Services Authority, was investigating claims big energy companies had been regularly manipulating the wholesale price of gas