Owner kills three people, then himself, at Cherokee Street business










»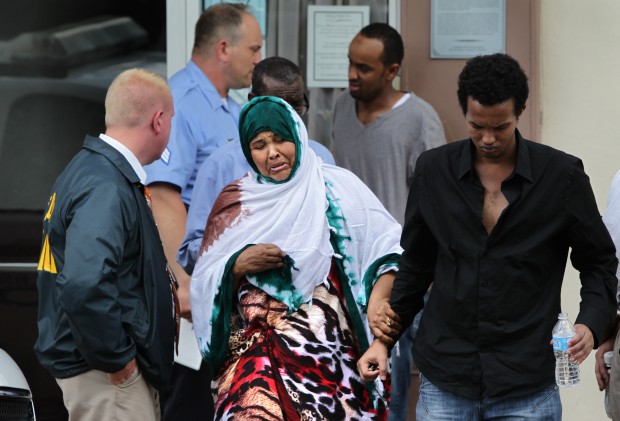 Family members arrive after four people were found dead inside A K Home Health Care, located inside the Cherokee Place Business Incubator, on Thursday, June 13, 2013. Photo by Robert Cohen, rcohen@post-dispatch.com
RELATED GALLERIES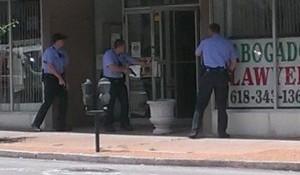 Images from scene of murder-suicide on Cherokee
RELATED LINKS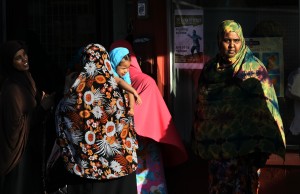 Video: Four dead on Cherokee Street
St. Louis crime reports for 2013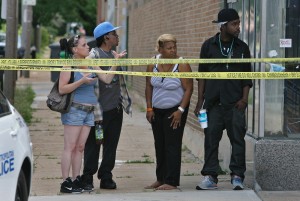 ST. LOUIS • The operator of a home health care business gunned down three people who worked there — including his business partner — Thursday afternoon before taking his own life, police and others said.
The shots were fired about 1:40 p.m. at A K Home Health Care in the Cherokee Place Business Incubator at 2715 Cherokee Street, police say.
Officers recovered a semiautomatic handgun at the crime scene.
Police identified the gunman as Ahmed Dirir, 59, of the 900 block of Carr Avenue.
The victims were Khadra Muse, 44, of Indian Circle Drive in Olivette; Seaeed Abdulla, 29, of the 700 block of Cole Street; and Bernice Solomon-Redd, 54, of the 2400 block of Ridge Avenue in East St. Louis.
St. Louis Police Capt. Michael Sack said surveillance video showed the shooter opened fire after having a brief argument with others inside the business.
"We don't know if this is a prior thing that carried over," Sack said.
Sack said the victims all appeared to have connections to the health care business.
Dirir and Muse are listed in public records as owners.
Police sources and relatives at the scene said Abdulla was married to Dirir's step-daughter and that Muse and Abdulla were also related by marriage.
The dead were removed from the business just before 6:30 p.m. No one else was injured.
A police source said Dirir had a single gunshot wound to his temple. Abdulla was found dead still seated at a desk and the two women were found on either side of him, the source said.
They had been hit in the face and torso by at least a dozen bullets.
Shortly after the shooting, a woman tried to walk to the scene before police turned her away. She openly mourned and eventually fell to the sidewalk.
Her nephew, Mohammed Ismail, 21, explained: "All of the people, these are our family." Another man with them said they were from Somalia.
Hours after the shooting, Omar Jamal, an official with the Somali mission to the United Nations in New York, issued a statement expressing condolences to the families of the victims. Jamal urged the local Somali community to provide any useful information they have to police and vowed to visit St. Louis soon.
Charles Kirkwood, a construction business owner from north St. Louis County, said he helped Dirir and Muse start the business about five years ago. Word had spread in the African immigrant community that Kirkwood knew the system and was willing to help others.
He said that Dirir also drove a cab and Kirkwood would see him occasionally and wave to him outside Kirkwood's business, Midwestern Construction and Development, in north St. Louis.
"Ahmed was very bright, he had a master's degree. He was brilliant. He must have just snapped," he said. "I'm just kind of sad."
Mohamed Noor, 34, of St. Louis, said he used to work with Dirir. Noor stood outside a Somali-owned grocery near where the shooting took place Thursday evening with several others who said they were heartbroken over the shootings.
"We joked around, we chilled together," Noor said of Dirir.
Noor said Dirir was still reeling from a difficult divorce from his first wife and was stressed over financial problems. Dirir had married again, friends said.
"He told me for two or three years, 'I'm going to kill people and then myself,' but nobody took him seriously," Noor said.
Vivian Little, 32, of St. Louis walked up to the scene Thursday, holding a folder full of her timesheets.
"I'm just really hurting right now," she said. "I knew those people. I worked for those people. They were really nice. I can't understand what happened, and now I don't have a job."
Little said one of the men killed had hired her as a home health care nurse about two years ago.
"They would welcome everybody when they walked in, and they never argued in front of me," she said.
But attorney Michael Graff, whose office was located inside the same building, said he frequently heard shouting coming from inside the health care business.
He was away getting a haircut when the shots rang out, and rushed back to find his secretaries inside police cars.
Jeff Vines ran to Graff as soon as he showed up on the scene.
"You're alive!" Vines told Graff and hugged him.
Vines owns a custom screen printing shop called STL Style just blocks from the scene and said he had just talked with police officers moments before the shooting about how crime had quieted down along Cherokee Street.
The officers were in his store picking up some custom T-shirts his business had created for them.
"This is terrible," Vines said. "I know people in there. This changes everything."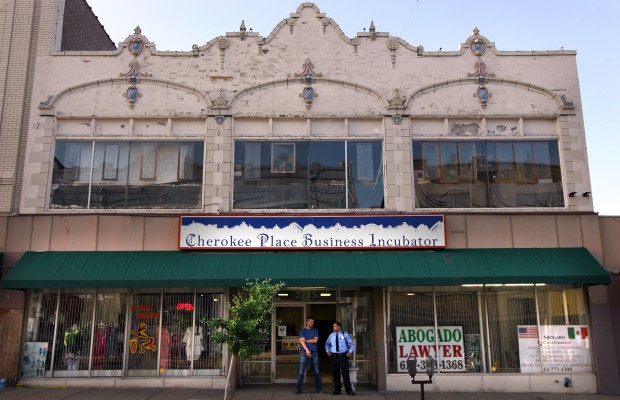 Cherokee Place Business Incubator
The building that housed the incubator is owned by Will Liebermann, known for renovating buildings on the street for years and leasing them as studio "live-work spaces."
Liebermann said Thursday night that he was in the building at the time of the shootings but he didn't want to comment on what he saw or heard.
The 4,000-square-foot building is a former movie theater, said Anne McCullough, who works with the Cherokee Street Business Association. The building is home to five to 10 small companies, including an attorney's office and an African bazaar.
"It's sad to see, but there's a lot of things that happen," she said. "Cherokee is a strong, strong neighborhood, and we'll get through this."
Members of the business and arts groups along Cherokee were trying to figure out what was going on Thursday.
James McAnally, who runs a nonprofit next to the incubator called Luminary Center for the Arts, said he didn't hear the shots but said residents on the block outside were "pretty confused and shocked" immediately after it happened. He said the Cherokee Street community is shaken by the shooting but remains strong.
"A lot of people care about this community," he said.
After the shootings were discovered and as police investigated inside, a fist-fight broke out between two women near where reporters stood. The cause wasn't clear. One woman was taken into custody.
The shooting set the diverse neighborhood known for its Cinco de Mayo celebration and arts and music back on its heels.
One block over, José Garduño, 40, owner of Garduño's Mexican restaurant, said the shooting made him nervous and a little scared. He left Michoacan, Mexico, a long time ago because of intimidation and violence.
But he assured in Spanish: "We, as businessmen, hope that people continue coming. We are good people."
Chris Phillips, 24, a musician and artist who lives three blocks from the shooting, moved in two years ago "because this is where a lot of positive things are happening."
"Unfortunately there are a lot of negative elements that go against it," he said. "It just reminds you that there is still a lot of work to do and not everyone shares the same goals and optimism and beliefs in the community."
Police Chief Sam Dotson said this week's violence has caused him to cut his vacation short and return to St. Louis. Officers have investigated numerous shootings across the city this week, including the murder of a 7-Eleven clerk in the Bevo Mill neighborhood and shots fired Tuesday night at St. Louis Police Maj. Joseph Spiess.
Liebermann, the owner of the building where Thursday's shooting happened, said Cherokee Street was already starting to regroup from the tragedy. In fact, he said, a group of businesses was planning a barbecue today to raise money to help the families of the victims.
Tim Logan, Jesse Bogan, Jennifer Mann, Susan Weich, Denise Hollinshed, Margaret Gillerman, Valerie Schremp Hahn and Doug Moore of the Post-Dispatch contributed to this report.
http://www.stltoday.com/news/local/crime-and-courts/four-killed-in-murder-suicide-on-cherokee-street-st-louis/article_f402b2cb-9b42-5ebd-919f-625e99d80f79.html
http://samotalis.blogspot.com/