China's Baby 59 left in sewage pipe evokes mass sympathy and anger
Infant now recovering in hospital was dumped in toilet and had to be cut out by firefighters, as police seek mother's story
Tania Branigan in Beijing
guardian.co.uk, Tuesday 28 May 2013 17.46 BST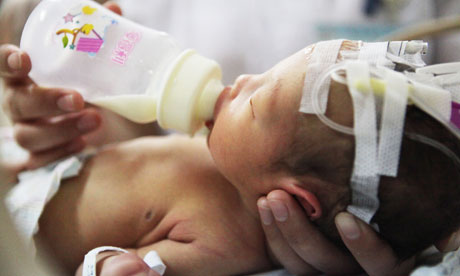 A nurse feeds Baby 59, who is now stable in hospital after being rescued from a sewer pipe. Photograph: Imaginechina/Corbis
He has no name, just a number: Baby 59. But his face is now familiar to millions and wellwishers across
China
are anxiously monitoring the fate of the tiny newborn after firefighters freed him from a sewage pipe where he was trapped beneath a squat toilet.
Weighing just 5lbs, the boy was found wedged in the pipe beneath a shared bathroom in a residential building in Jinhua, in China's eastern province of Zhejiang. His placenta was still attached.
Early reports suggested residents heard his cries late on Saturday and raised the alarm — but updates suggested his unmarried mother had been the first to call for help, pretending she had merely come across him.
The extraordinary footage of his rescue showed firefighters sawing away an L-shaped section of the narrow pipe from the floor beneath the bathroom, after attempts to pull him out failed. Medics at Pujiang People's hospital then helped them to take it apart piece by piece with pliers and saws — a process that took almost an hour. It reportedly had a diameter of just 10cm.
State media said the baby, identified only by the number of his hospital incubator, had a low heart rate when he was admitted and had suffered cuts and bruising, but was now in stable condition.
Police initially said they were looking for his parents and treating the case as one of attempted murder. But the Pujiang police bureau later said on its official microblog account that the boy's mother had been located and an investigation was ongoing. An officer reached by phone told Associated Press he had no information.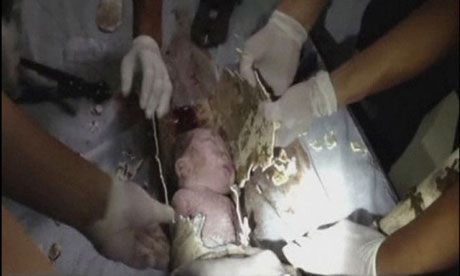 Doctors in China cut a newborn baby boy free from a sewage pipe. Photograph: Reuters
Agence France-Presse said a police officer told them that the mother had hidden her pregnancy and the baby fell into the toilet after she gave birth unexpectedly. He said: "The woman was on the scene during the entire rescue process … and admitted [she was the mother] when we asked her."
He added that police had not yet decided whether to file charges and that there was no information on the father.
The landlady of the building earlier told the state-run news site Zhejiang News that it was unlikely the birth took place in the room because there was no evidence of blood and that she was not aware of any pregnancies among the residents.
The case has provoked horror across China, where footage of the two-hour rescue was broadcast widely. State media said strangers inundated the hospital with gifts of nappies, baby clothes and milk powder — as well as offers to adopt the little boy. But a doctor at the hospital said he would be handed to social services if his parents did not claim him.
Several cases of abandonment have been reported recently — including that of a baby dumped in rubbish earlier this month, who is thought to have died despite medical care.
Earlier this year, the Beijing Youth Daily said the
hospital that treats abandoned babies found in the capital had received more than 10,000
in the last decade.Girls are more likely to be abandoned, due to the
preference for boys
in China, as are disabled infants.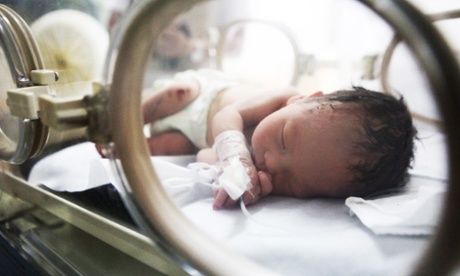 The newborn baby that was rescued after being flushed down a toilet is recovering well in hospital in Pujiang, China. The baby boy was found in the pipe in a residential building and the case sparker anger on social media sites. Photograph: Imaginechina/Rex Features
While some have suggested abandonments are linked to China's one-child policy of strict birth controls, which can lead to heavy fines for parents who breach the rules, that alone is unlikely to explain the phenomenon. Abortion is readily available and widely used to end unwanted pregnancies or those that breach the quota.
The Zhejiang case also has striking similarities to cases seen in the US and other countries where women have left their newborn babies in toilets, having been unaware they were pregnant or apparently in denial; and to cases where mothers have abandoned their babies but immediately alerted authorities, pretending to have stumbled across the infants.
Bearing a baby outside marriage still carries a stigma in China. But there appeared to be little sympathy for the mother on social media, where users angrily asked how any parent could leave their child in those conditions.
"The parents who did this have hearts even filthier than that sewage pipe," one user wrote on the Sina Weibo microblog service.
Additional research by Cecily Huang
http://samotalis.blogspot.com/